Residential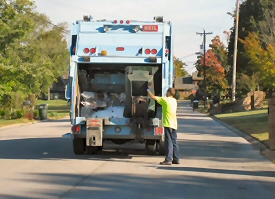 Hudgins Disposal offers weekly residential trash collection service.
We provide you with a 96 gallon collection bin for your trash.
Our service areas include:
Hermitage
Old Hickory
Mt Juliet
Donelson
Bellevue
Nolensville

Brentwood
Cane Ridge
Antioch
Greenbrier
Ridge Top
Have your carts out by 6:00 a.m.
Weight limit:
96-gallon cart
200 pound limit
Carts that are over the weight limit will not be picked up.
Cart placement:
Place carts as close to the curb as possible, but not in the street.
Place carts at least two feet from mailboxes, parked cars or any other obstructions.
Please remove carts from the street as soon as possible after collection.
Do not put the following items in your trash:
Motor oil
Hazardous waste
Liquid paint
Needles or syringes
Cooking oil (can be disposed of if solidified, i.e. add kitty litter to solidify)
No loose or hot ashes